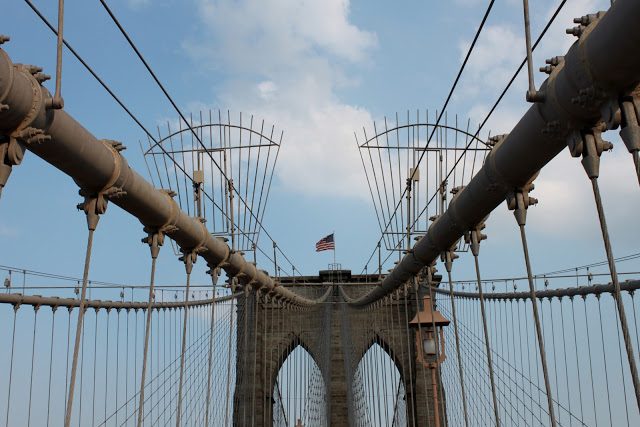 In case you didn't hear, I went to New York for the second Travel Blog Exchange. I had a lot of dilemmas in choosing where to stay for many reasons. First, I was traveling by myself, so it's not like I could share a room with someone coming with me. I wanted to pick somewhere I thought other people would be staying, but I had no idea where that might be. Second, I had very little money to work with. The conference recommended certain places, but I decided that I would find somewhere cheap on my own. Which is what led me to Broadway Hotel and Hostel.
Having just spent plenty of time hostelling in Europe, I expected the same experience. Fellow travelers communing with one another and discussing where they've been and where they're going. This was not my experience at Broadway. I sat in the common room on my computer and was not once spoken to by anyone else. Sure, the World Cup was on, but even my roommate did not say a single word to me the whole four days I was there. It was only the two of us in a room, so this was especially awkward. The setup definitely doesn't help, resembling a refurbished apartment complex with cheap Ikea furniture more than a hostel. Maybe I like my hostels grubbier.
The main problem with this hostel is the location. I definitely should have picked somewhere closer to the conference so I wouldn't have to shlepp my ass all over the city for meetings and happy hours. And in a side note, I got lost at 2 a.m. on the subway not once but twice. Thank god one of those times was in Chelsea during Pride. The other was in Harlem when there wasn't a cab in sight. Even if it had been closer to the conference, there still isn't much around the Upper West Side tourist wise. Almost everything is downtown, with the exception of The Cloisters, which I didn't make it to.
The two person rooms are a plus (if it hadn't been for that cranky French girl) and are cleaned every day. There are 2 large television areas, a computer area (that you have to pay for) and a kitchen. Wireless only extended to the first floor, which made me want to be in my room even less. You can't check in until 3 p.m., but they store your luggage free the first day and you can sit in the air conditioning for a while. If Broadway weren't so close to the subway, I might have stayed at a friend's house instead. No more than 4 blocks in either direction, which was a blessing on those nights when I got lost and wanted to cry. I almost forgot to mention that this place also calls itself a "hotel," offering private rooms with ensuite bathrooms surrounded by backpacker dorm rooms. I don't know about you, but if I wanted a hotel, I would spring for one elsewhere. And apparently it was shut down for overcrowding a couple of years ago, leaving at least 100 people bedless. Okay, that's enough crankiness for one post.
Caroline in the City Rating:
Location: close to subway, but not to tourist spots or bars **
Price: "hotel" rooms $120, dorm rooms $35 ***
Character: more like sparsely furnished apartments, but lobby was nice ***
Security: 24 hour reception *****
Staff: somewhat helpful but unenthusiastic ***
Fun: tours offered, but I didn't see anyone going on them ***
Cleanliness: cleaned by a maid daily *****
Extras: computer access, free wifi in lobby, luggage storage, linens, kitchen ***
Total: 27/40
Don't believe me? Check out the Hostel World review here.