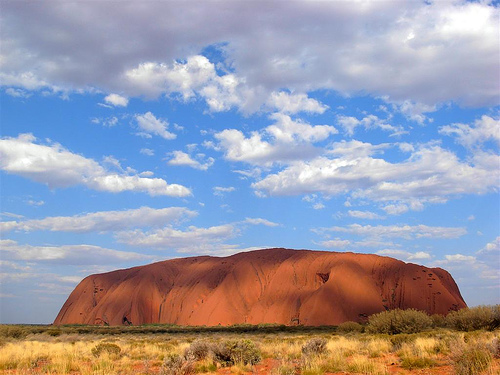 via ilfanto
I'm finally visiting THE Australian landmark. I've booked the Rock 2 Water tour through Groovy Grape Getaways, which starts in Alice Springs and visits Uluru, Kata Tjuta, Coober Pedy and the Flinders Ranges before ending in Adelaide.
I've been a bit overwhelmed in planning this excursion, mostly because I have no idea what to expect. I know I will be camping, but since the weather is rather bipolar in Alice Springs, I'm packing for all climates. Do I need a mosquito net to keep all those nasty flies away? How about a snake bite kit? I've never been anywhere quite like the Outback.
I'm lucky that Groovy Grape has such a great itinerary because I'm not sure how I would get out there as a solo traveler. If you read my post "The Australian Airline Conundrum," you know how much of a struggle it's been just booking flights. Here's my plans so far.
Day 1: Fly to Alice Springs on Qantas. Stay at Haven Backpackers.
Day 2: Leave for GG tour at 6:45 a.m. Visit Uluru and stay at Ayers Rock Campground.
Day 3: Visit Kata Tjuta and stay at Kings Creek Station.
Day 4: Explore Kings Canyon.
Day 5: Go noodling for opals in Coober Pedy.
Day 6: Visit the Flinders Ranges before arriving in Adelaide. Stay at Backpack Oz.
Day 7: Fly back to Sydney on Virgin Australia.
Do you have any recommendations for my trip or what I should pack? Here's what I have so far.
Have you been to Uluru? What did you pack?