Backpacker bars make the travel scene what it is in Australia: "no worries." Most major hostels have their own in-house bars but each one is unique, with cheap drinks, activities and rowdy backpackers abound. They're the only places where you will find a party every night of the week.
Sydney
Located beneath the Sydney Central YHA, this bar is steps away from Sydney's main train and bus station, which makes it easily accessible. Known for their Monday night crab races, backpackers can win prizes like trips to Cairns and the Blue Mountains. The drinks are crazy cheap, especially during happy hour, where you can get a jug of beer for less than $8 AUD. If you don't have much money for food, they also offer all you can eat pizza for $10. Other weekly events include backpacker karaoke, silent disco, Jagermeister Fridays, theme parties and pool competitions. Be sure to try the tasty jam jars, which are essentially Sex on the Beaches in Mason jars.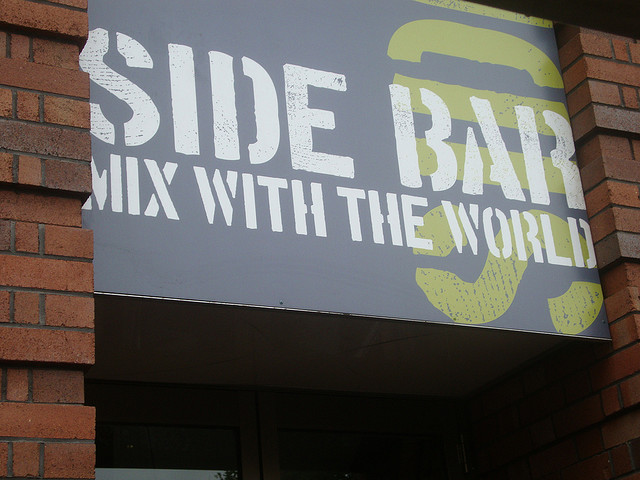 Photo: Flickr user willposh
Right across the street from ScuBar beneath Wake Up! hostel is Side Bar. They advertise themselves as a place to "mix with the world" and it couldn't be more true, bringing in students and backpackers every night of the week. Free weekly barbecues fuel patrons before the theme parties, live music, DJs and pool competitions.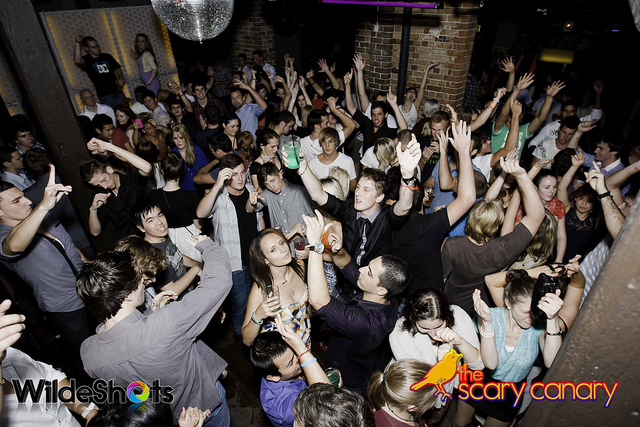 Photo: Flickr user tmpromo
Scary Canary
Base's Sydney location has it's own bar as well, called Scary Canary. Scary Canary has buckets of cocktails like you might find on the beaches of Thailand. With weekly wet t-shirt contests, jelly wrestling and strip pillow fighting, Scary Canary is the more risque of the Sydney backpacker scene. Every Wednesday is a theme night, so find yourself a costume.
Other Bars to Check Out
The Gaff: Darlinghurst's most-loved backpacker joint has made it the Golden Backpack Awards winner for many years.
Three Wise Monkeys: This Haymarket pub brings in the working crowd for casual afternoon drinks and the younger set later at night.
Scruffy Murphy's: As the name suggests, Scruffy's is a rough around the edges Irish pub in Haymarket that can get pretty out of control, especially on St. Patrick's Day.
Empire Hotel: Originally Kings Cross' first strip club, The Empire now hosts many backpackers for its free entry Friday nights.
O'Malley's Hotel: Although most of Kings Cross could be considered backpacker central, O'Malleys sits right beneath the infamous Coca Cola sign.
Oz Party: These folks can be seen driving all over the city on Friday nights with bachelorettes hanging out the window, but they also offer harbor cruises and backpacker nights for $35.
Byron Bay
Caution to anyone who tries to dance on the tables at Cheeky Monkey's because if you fall you will have a nasty bruise. As Byron Bay's most popular backpacker bar, Cheeky's has nightly events like wet t-shirt and Coyote Ugly dance competitions. If you stay sober enough to remember your time there, you can win some amazing prizes, like skydiving and bungy jumping vouchers, surf lessons, day trips, dive courses, campervan rentals and even cold hard cash!
Surfers Paradise
In a city as outrageous as Surfers Paradise, you would expect to find just as outrageous of a nightlife scene and you won't be disappointed. The Backpackers Night Out brings together travelers from hostels all over the city for one night of debauchery. For $30, you get free transportation to all the clubs, a group photo, pizza, drink specials and giveaways.
Brisbane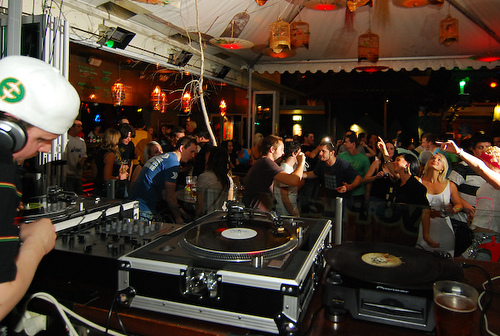 Photo: Flickr user soulbridge media
Bunk, Brisbane's newest hostel, has a bar with 2 happy hours, located in the infamous Fortitude Valley. Birdee's, as it's fondly known, on the more upscale end of the backpacker bar spectrum and brings in locals and visitors alike. The hospitality industry nights, trivia, ladies nights are popular. If you sign up for their free membership, you don't have to pay a cover on weekends or wait in line.

Photo: Flickr user Diego.au
Down Under Bar and Grill
Base has two of its Down Under Bar locations, one in Brisbane and one in Airlie Beach (see below). This bar services both of Base's Brisbane locations, Embassy and Central. As with the other Base bars, there is plenty of naughty fun to go around, like the theme nights, wet t-shirt competitions and ladies night. The give out coupons for free or discounted dinners.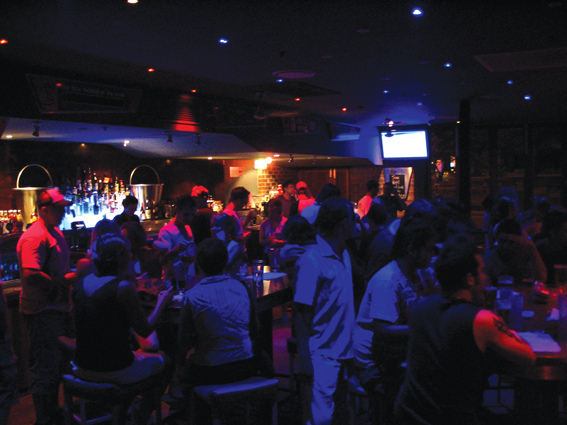 Photo: Flickr user Nomads Hostels
The Tin Bar is named after its adjoining hostel, Tinbilly's, which is not part of the huge Australian chains. If you're too hungover to make it out, you can pre-order your meals from their grill. If you do make it out, you will be rewarded with events like Backpacker Olympics, Full Moon parties, free barbecues and giveaways from PeterPans travel agency.
Noosa
Since there is only one other bar in the area, Nomads' KB's, formerly the Camel Bar, has the monopoly on cheap drinking. Their cheap meals aren't too shabby either. I got a steak and a beer for $10. After dinner the locals and backpackers join together for sloppy fun, including dancing, limbo and giveaways.
Melbourne
Photo: Flickr user beachieon
Red Eye
Base's Red Eye Bar has a reputation all its own. The bright red paint is hard to ignore. They offer wild ladies nights and more relaxed events, like Wii championships and Sunday sessions.
Airlie Beach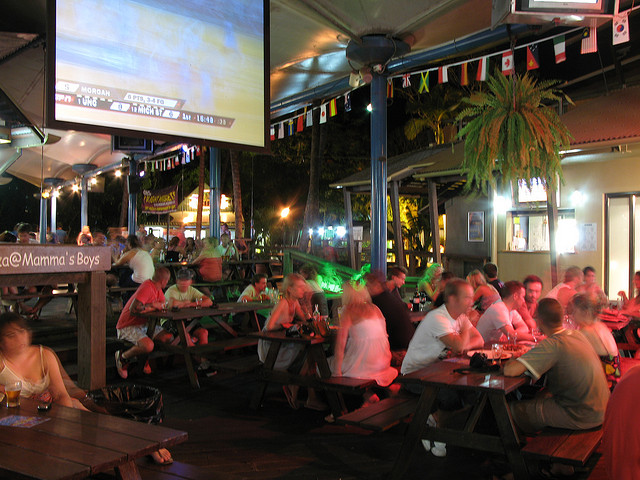 Photo: Flickr user kpcmobile
Magnum's Hotel
The largest bar in Airlie is the ideal place for day drinking. It's attached to Magnum's Hostel, so it gets lots of travelers for the foam parties and 6 bars with super cheap drinks.
Other Bars to Check Out
Down Under: As with the other Down Under location, the Airlie one has wet t shirt contests, pole dancing competitions and all sorts of scandalous shenanigans.
Beaches: Located in the hostel of the same name, the beergarden stays packed until late in the evening.
Cairns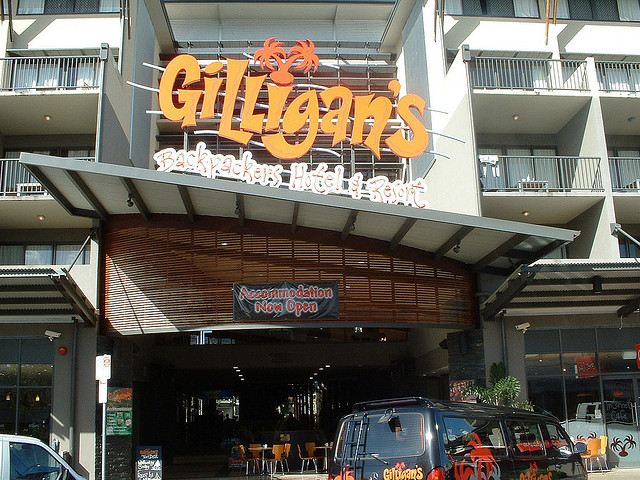 Photo: Flickr user syadyppah
Gilligan's was one of the last bars I visited in Cairns and there were people on the dance floor all night. The adjoining hostel brings in backpackers for jelly wrestling.
Photo: Flickr user fivemonthsoff 
On any given night in Cairns, the Woolshed will be packed with backpackers for a swimsuit competition, pub crawl, or to just dance on the tables. The Woolshed is where travelers go to lose their dignity and sometimes their clothes. Waking up wearing a lei or sombrero is a sure fire sign of where you've been the night before.

As I mentioned in my post about Cairns, going on this pub crawl the night before my scuba diving class was stupid. But I had so much fun that I can't regret it too much. For $30 you get transportation to and from all 5 bars, barbecue dinner, late-night pizza, prizes and drink specials. They go twice per week and are toga themed on the first Tuesday of each month. They also hand out discount booklets that give you coupons and free drinks at stores, bars and restaurants all over town.
Cape Tribulation
PK's Jungle Bar
As the only bar in the area, PK's has an advantage, but I would hang out here either way. The jugs of beer were reasonable and even if no one was dancing, they played great music.