In case I haven't mentioned it yet, I am getting ready for yet another adventure to Europe.   It all happened fairly quickly. I had always intended on visiting my friend Christine in Austria in the late summer and once I heard the Travel Bloggers Unite conference would be held the week before, I decided to tack it onto my trip. I've purchased a Eurail pass from Rick Steves so I can easily hop from city to city.
September 5-12
Porto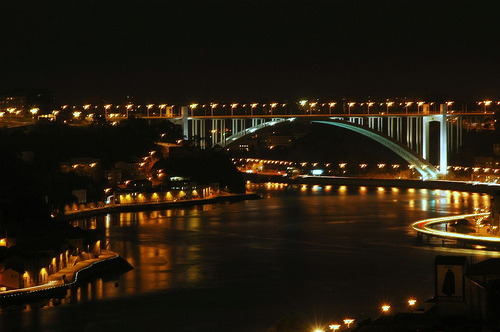 I will be in Porto, Portugal, for the Travel Bloggers Unite conference. It's my first travel blogging conference since Travel Blog Exchange 2010 in New York and my expectations are high. I've had two years of travel blogging under my belt since then and I'd like to think I'm more outgoing. I'm excited to meet more travel bloggers and pitch ideas to tourism boards and CVBs. I will be staying in the Gallery Hostel during my stay there. They have lots of fun activities planned for us, like a pub quiz, walking tour of the city, a welcome to Porto party and blog trips around the Douro Valley and Braga. I can't wait to see this part of Europe.
September 13-18
Munich
What trip to Germany would be complete without Oktoberfest? I'm spending a week in Munich before the craziness starts and will be back the next week with friends Christine and Joey in tow. I can't wait to drink beer where it is known best, at Hofbrauhaus. I want to see the BMW plant as well as taking day trips to Neuschwanstein Castle and Dachau Concentration Camp. Mike's Bike Tours is offering me one of their standard city tours. I will be staying at Jaeger's Hostel, which I've heard has a great backpacker bar.
September 19-21
Innsbruck
I loved reading blog posts from TBU Innsbruck so much that I knew I had to check out the mountain town for myself. I'm staying at Doug's Mountain Getaway for a few nights, which I've heard great things about. It will be nice to get out of the big cities for a little while, even if I do consider myself a "city girl."
September 22
OKTOBERFEST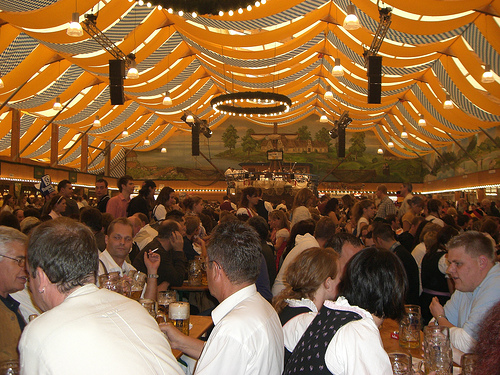 via kyle dresback
It's really happening! I'm meeting up with Christine and Joey, as I mentioned earlier, first thing in the morning and spending the day eating pretzels and drinking beer. I'm still on the lookout for a dirndl but I plan on taking the train back to Christine's apartment in Salzburg that night to crash.
September 22-25
Salzburg
This was the only city on my original itinerary. I knew I would be staying with Christine, going on a Sound of Music tour (and singing along!) and seeing where all the classical musicians lived and worked.
September 26-28
Vienna
Vienna is such a beautiful city from the photos I've seen. I plan on gorging in the sacher torte and visiting Belvedere Palace. Wombats Hostel at The Naschmarkt, one of the highest rated hostels, is hosting me during my stay.
September 29-October 6
The Rest: Freiburg, Heidelberg, Hamburg, Hannover, Cologne, Düsseldorf
I don't have this week set in stone yet, but I have a bunch of things I want to do, namely visiting Ali and Andy in Freiburg; meeting up with my Germans that I worked with in Australia, Jana and Sarah, in Heidelberg and Hamburg, respectively; visiting Cologne Cathedral; and seeing the Mercedes-Benz and Porsche museums. I'm still open to suggestions!
October 7-10
Berlin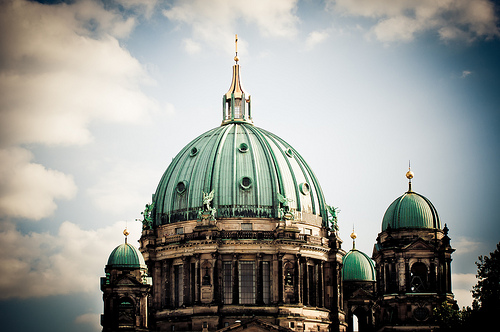 via Zanthia
Berlin is such a hip city with so many things to see. Visit Berlin has graciously offered me a Berlin Welcome Card. Berlin Wall, East Side Gallery, Brandenburg Gate, Museum Island and Potsdamer Platz are just a few spots I am excited to see. I'm also going to sample my first currywurst and going on a Fat Tire Bike Tours All in One City Tour.
PLUS Berlin is putting me up in one of their twin rooms, which were featured as a luxury hostel for their pool, sauna, restaurant and free wi-fi!
October 11-14
Frankfurt
Frankfurt will be the last stop on the journey and my trip coincides with the Frankfurt Book Fair, the largest book expo in the world, where I have a press pass to check out what's up and coming in the literary world. I'm staying at the United Hostel Frankfurt. I will wander the Romer area again, where I stopped by on my way to Thailand.
My Lovely Sponsors
As an ExOfficio Adventure Ambassador, I will be rocking their clothes for my European adventure, in particular my new Storm Logic Sweater Jacket.
For my accommodations, PLUS Hostels is putting me up in their Berlin location.
Wombats Hostel will be letting me stay in their Vienna location.
As I mentioned earlier, Mike's Bike Tours in Munich and Fat Tire Bike Tours in Berlin are going to let me tag along on their adventures.
Hostelworld, my hostel booking website of choice, has arranged my stays in Munich and Innsbruck.
Follow along on Twitter and Instagram with my #citceurope hashtag as well as #TBUPOR during the TBU conference!
Any tips or advice to add to my Europe plans?