I'm a big fan of community-driven websites and companies, namely the concepts behind CouchSurfing and MealSharing. Any opportunity to bring people together is ideal in my book. So when the folks at Lyft got in touch about their recent launch in Atlanta, I was intrigued.
Lyft is the most recent in a string of smartphone apps aimed at getting you to your destination. Others order a car by your location, but what makes Lyft different is that your driver will be a local of the city and their car will be designated with a bright pink mustache on the front. No joke.
The app tracks your location via maps and both you and your driver can see profile pictures and images of the car so you can recognize one another. So what's different about Lyft, other than the obvious facial hair on your car? The ride is paid for via donations, which you can do at your convenience by adding your credit card information through the app. Drivers and passengers are both rated after every ride, much how you would rate a Couchsurfing or AirBnB host.
Drivers are allowed to set their own hours and have the opportunity to earn extra income. Lyft drivers serve as mobile ambassadors for their cities. Many people pick up Lyft customers on their commute to work, on the way to the grocery store or late at night. Much like other community based websites (CS immediately comes to mind), what you get out of this type of app is what you put into it.
Don't take advantage of your driver's hospitality, even if you are donating to the cause. This is not a taxi service, but rather a community-driven ride share program. Be friendly and courteous. If you had a good experience, let them know with your rating. And if you're stopping at the grocery store, it's always nice to bring your driver a snack!
How should travelers use Lyft? Use the opportunity to get a Lyft from the airport, where a local can tell you about their favorite spots before you've even arrived at your hotel. If you're looking to explore a different part of town, hire a Lyft to take you there rather than taking public transportation. If you're concerned about getting back from a bar at night get yourself a Lyft instead of waiting for a taxi.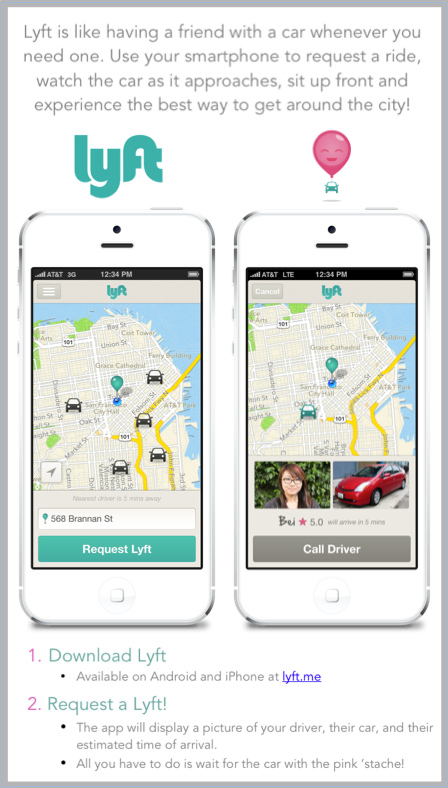 Your safety is also covered, as each driver goes through a DMV background check. Each car is insured and drivers have not received a moving violation in the last three years. Cars are all from the year 2000 and earlier and are frequently checked and maintained.
Lyft is currently available in Los Angeles, San Francisco, San Diego, Seattle, Chicago, Boston, Washington DC, Phoenix, St. Paul and, of course, Atlanta, and available on iOS and Android. I've received a Lyft credit to try out and all the readers in the listed cities can as well to use on your first ride!